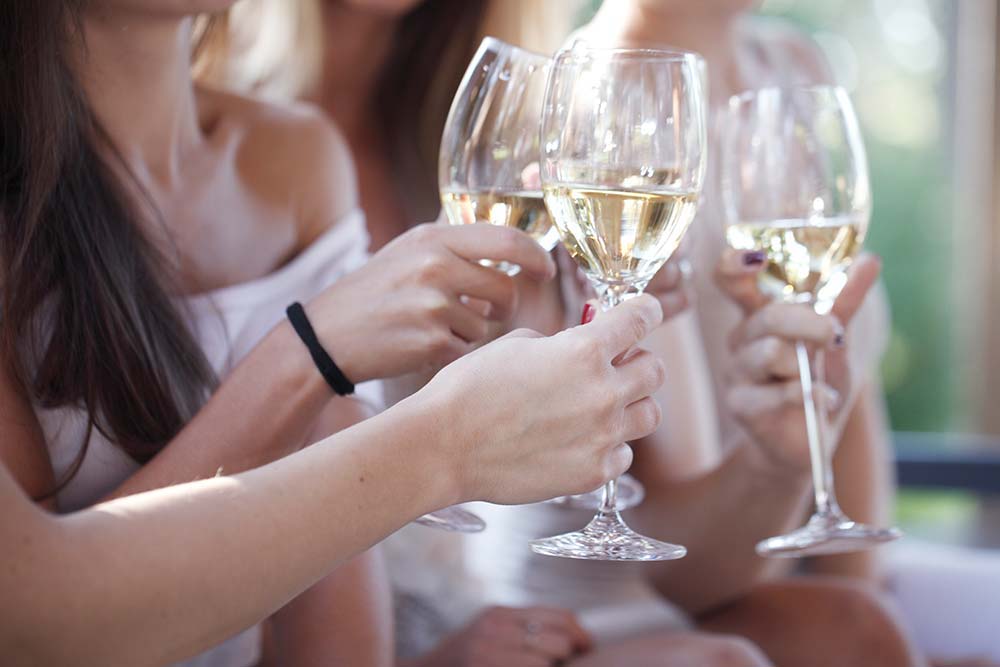 6 White Wines That Will Make Her Smile
I do believe there is a special bond between most women and white wine. Sad? They'll want white wine. Happy? White wine. Angry? White wine. Bored? White wine. With women it's never the question do you drink wine? It's which type of wine do you drink. So that's why you're here. White wine means a lot to a woman and trying to find her the perfect one can prove difficult. I am going to talk you through a variety of white wines and by the end you'll know the exact one that will impress.
Carta Vieja Sauvignon Blanc Chile £7.75
Country: Chile
Viña Carta Vieja is intimately linked to Chilean wine history and tradition. The Del Pedregal family have become true legends since Carlos Adolfo del Pedregal left his home in Spain to settle in the Loncomilla Valley in 1825. Now in its seventh generation, the family has amassed over 1200 acres of some of the finest vineyards in Chile. Carta Vieja has a brilliant knack of getting a serious passion across in their wines and this is a great example.
This delicate pale, yellow colour wine has faint green reflections. Fresh, clean and intense on the nose leaves a lovely hint of elderflower. It is strong on the palate with a great balance of fresh, acidity and a long tasty finish. Carta Vieja Sauvignon Blanc is an ideal partner with Ceviche, Shellfish, asparagus and goats cheese or serve as an Aperitif.
This perfect party wine is the exact fit for a party girl. If you know someone that sounds similar, this could be your wine. As it is under a tenner this is the perfect easy gift for that woman who enjoys her white wine for any occasion.
Dom. De la Creuze Noire Saint Veran £17.99
Country: France
Located on the border between Beaujolais and Mâcon, Domaine de la Creuze Noire is a solid family-owned property. Run by Dominique and Christine Martin who offer a broad selection of red and white Burgundy and Beaujolais (not forgetting the award-winning Saint-Véran) all made entirely from estate-grown fruit ; done entirely in stainless steel, it shows great finesse and remarkable balance.
This white has a soft texture and is well rounded. It has white flowers, ripe peach and a touch of almonds which adds to the citrus qualities you can tastes.
This wine is ideal for vegetarians as it compliments beautifully with vegetable dishes. It can also be paired with pasta dishes and selection of meats. Hearty Italian dishes would be a great choice or if you where looking for a restaurant and Italian would be a good option. If your looking for a gift for a woman who prefers Italian over Asian and heavy Indians this could be your wine.
Domaine Jean Pierre Seve Macon Solutre £14.49
Country: France
Domaine Sève is a small but impeccable family property that lies on the steep slopes overlooking Solutre, one of the finest of all the Macon Villages and the very core of the appellation. Sylvie and Jean Pierre Seve, the current generation, use oak carefully not to create oaky flavours but to allow an exchange between oxygen and the developing wine, with spectacular results. It was Pouilly Fuisse such as this that gained the commune world wide acclaim originally and this wine is grown on the same soil. An unoaked Chardonnay in the unique and inimitable Burgundian style, which perfectly demonstrates the purity of the chardonnay fruit in its dry, refreshing nature with delicious citrus and apple flavours.
This dry, medium bodied Chardonnay perfectly complements delicate fish such as salmon, langoustine and prawns and is an excellent accompaniment to cured ham, roast chicken and goat's cheese. Jean Pierre wines are all highly rated within The Wine Company but especially the Macon Soultre. It is one of the go to white wines and reasonably priced would make the perfect gift.
Ca' Bianca Gavi £11.99
Country: Italy
Made from 100% Piemontese Cortese grape, 40% of this wine is fermented and aged in oak barrels. This dry, fresh and soft wine is a perfect example of this variety, floral in nature with stone white fruit flavours and hints of vanilla and spice.
This white wine makes a delicious aperitif and is delicious served alongside salmon, cod, prawns, and squid. However, if your purchasing for a woman who doesn't especially like seafood, chicken in creamy sauce and veal also pair with this Gavi extremely well.
Mar de Frades 2016 Albarino £17.99
Country: Spain
Albariño Mar de Frades is considered to be one of the most respected white wines in Europe. The winemaker a native Galician who has always worked in the region and with white wine, Paula Fandino. In 2007 she joined Mar de Frades and works with the over 150 growers in the area.
Mar de Frades has a very distinctive blue bottle which has come to be more popular than the liquid inside. However, fine aromas of citrus and grass leave this wine feeling very delicate and fresh. It has been described as 'elegant, pure and salty. It has aromatic and fine scents, with generous, juicy white fruit and lovely balance. The blue bottle is in honour of the ocean that embraces the vineyards which causes this wine to combine with seafood harmoniously.
If the girl in question enjoys a large range of different seafood this wine if the perfect match for her. So if your buy for a gift to bring for a dinner party or restaurant this will go down a treat. A highly rated white wine through out The Wine Company.
Eric Louis Sancerre France £18.99
Country: France
Eric Louis Sancerre France is located on the southeast hillsides of Sancerre. The winery flourishes on clay-limestone and flint soils. To extract the best of the fruit the grapes are pressed slowly and carefully. This precise production reflects the price- easy wine doesn't come cheap, but don't let that put you off.
This white is pale and gold in colour with perfect clarity. Is has a lovely fresh fruity aroma with citrus and exotic fruits. On the mouth it has expressive and fine aromas leaving a refreshing aftertaste.
This is a perfect summer wine to crack open in the beginning of the nice weather. Pairs perfectly with seafood and fish such as salmon, tuna accompanied with a fruit salad and canapés. A nice summery wine to suit a women with a similar style.
If there's one thing you can notice about these white wines: they are all very summery. As white wine is enjoyed cooled they are always preferred in nice weather and if possible, outside. Although they have that in common they each have different qualities and taste. I hope this blog has led you to an understanding of the type of wine you're looking for and a perfect gift.