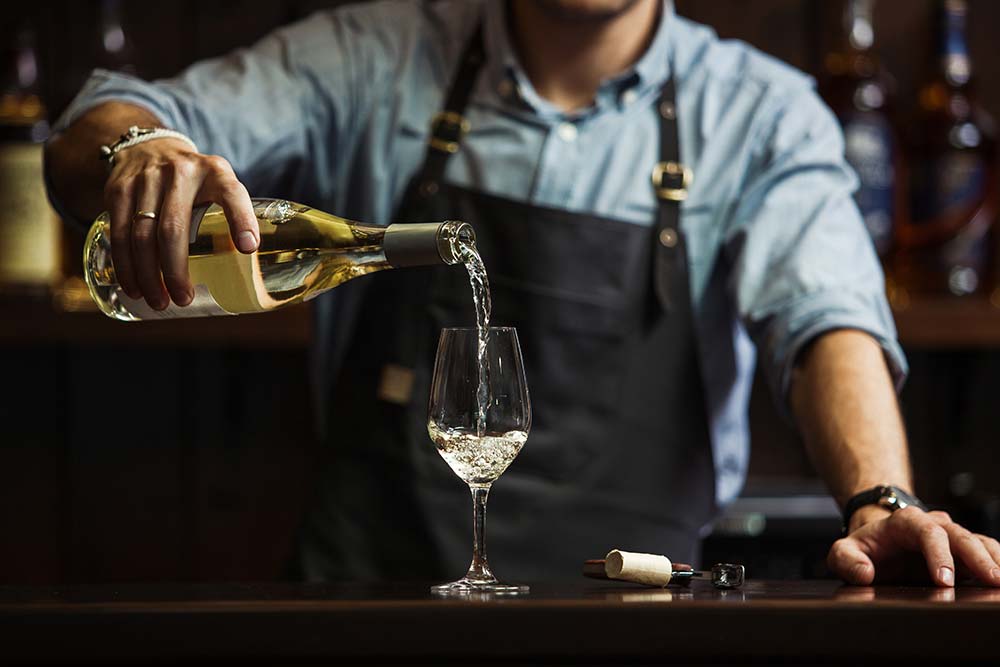 6 White Wine Gifts For The Man In Your Life
Overall red wines have a better perception towards men and which wine they prefer. But, don't let that fool you. Men can enjoy a white wine just as much as a red. Men often think of white wine as effeminate but I am here to tell you otherwise.
White wine suits the man who knows the value of being understated, interesting, and surprising. Today, real men know that white wines can often offer more intrigue and complexity than red. I know it might be a bit much to get your head around, but I am here to prove you otherwise. If you are looking to buy a white wine gift for a son, husband, uncle, father or even your male next door neighbour this blog is going to leave you with the answers you're looking for.
Chateau Penin Sauvignon Bordeaux Blanc £13.99
Country: France
Our first wine is located on the left bank of the Dordogne River in Bordeaux. Chateau Penin white vines are found on the hillside just beyond the winery.
In a pale yellow colour, this Bordeaux Blanc has layers of opulent white and green fruit including apricot and grapefruit. It is combined with spices and a hint of oak on the nose and and supple aromatic taste on the palate.
When drinking any white wine it is best not to over chill. You want to drink it chilled and not cold or every wine will taste the same. This leads to easy drinking and because it's a young wine all its richness will then come through. If the man you're looking to buy this for enjoys a different range of white meats including fish, poultry and pork this could be the option for him. It doesn't need to stop there; it can be enjoyed over a selection of cold meats and cheeses, perfect for a night in with friends or a nice spring evening outside. This wine is made to be enjoyed while relaxing
Tenuta Rapitalà Fleur Viognier Sicilia – £10.50
Country: Sicily
Sicily has a variety of ancient grape vines and this is what gives Fleur Viognier its golden yellow colour with green tints. This is a very intriguing wine with a full and intense bouquet of flavours. A dry and fruity wine with a good ripe and intensity with a fresh and soft finish.
This wine is highly recommended for vegetarians or any veggie dish.
As a lot of wines are usually paired with meats and poultry, if your man is a vegetarian this would be perfect for him. Red wines are very common to go with meat, therefore you actually might find that your vegetarian man prefers a white. Therefore a good tip for the future encase you run into that situation again.
Perelada Albariño GR 94 £15.99
Country: Spain
Rías Baixas is the most valued white wine region in Spain. Albariño accounts for 90% of all vines there. Albariño has high quality and unique taste profile and is considered as synonym of Rias Baixas.
This is a pale yellow wine with greenish reflections. It has a very intense and expressive taste which is the recognised character of the Albariño range. Wines from this Atlantic area have a good high acidity and this leaves the wine with a voluminous flavour. To taste it is pleasant, smooth and has no ridges. This white is usually great as an aperitif, recommended to serve with grilled seafood, fish, fresh salads and milder cheeses. This would be the perfect gift for women who enjoys going to dinner dances and social gathering. This is best enjoyed with friends at a dinner party and social gatherings. If the woman you're looking to purchase a gift for enjoys these types of evenings along with nice high quality aperitif this could be the wine for her.
Dante Robino Chardonnay Argentina £9.99
Country: Argentina
Dante Robino has been producing wine since 1994. The vineyards are 980m above sea level and are watered by furrows. The soils are of average depth and have good light characteristics of wine from this region.
This intense white wine is 100% chardonnay. I know how most people feel about a chardonnay but trust me, don't judge it til you try it. An intense yellow colour with greenish tones leaves this wine bright, young and fruity. It gives off citrus and floral fruits on the nose and broad on the palate but fresh and balanced. This chardonanny has a pleasant, long lasting finish and the fruity aftertastes persist.
This is an ideal summer white wine, perfect to enjoy with cold fresh starters, grilled fish and salads. A gift to bring for an outdoor party or send to a man who enjoys a glass of wine in the sunshine.
Pouilly Fuisse JP Seve Vieilles Vignes £25.49
Country: France
Jean Pierre Seve is the fourth generation of wine growers in the heart of Pouilly Fuisse, the top appellation in the Maconnais region, southern Burgundy. The Pouilly Fuisse is the oldest vine from the JP Seve farms. With an average of 50 years the grapes are selected to give this wine its acquired taste and aged for 10 months.
This dry, full bodied chardonnay has an inviting bouquet of hazelnuts, stone white fruits, sweet spice, citrus and minerals. Rich and elegant by nature, this wine possesses a beautiful oily texture with integrated oak. Overall, this is a complex and harmonious wine. The nose is toasty and warm. The palate is vanilla, ample and persistent, slightly spicy, it reveals all the power of a Pouilly-Fuissé from ancestral vines.
This chardonnay perfectly complements all types of fish and is particularly suited to lobster, monkfish, halibut, turbot and scallops. A white wine especially suited for a fish loving man.
Domaine de la Solitude Chateauneuf de Pape White £34.99
Country: France
Domaine de la Solitude has one of the longest histories in the Rhone Valley.
White Châteauneuf-du-Pape is one of the rarest and most prestigious wines in France. For most people Châteauneuf-du-Pape in the southern Rhône Valley means red wine. This is understandable because only 7% of the wines are white.
But these whites are well worth seeking out. They are delicious and some of France's most full-bodied and rich whites. Famous for its full-bodied, seductive and spicy reds with flavour and aroma characteristics of silky black cherry, baked raspberry, lavender and baking spice, Chateauneuf-du-Pape is the leading sub-appellation of the southern Rhone River Valley.
They also age beautifully. Because of their intensity and body they are wonderful with food and you can pair them with not only fish (preferably grilled or with a creamy sauce) but also with duck breast and all kinds of white meat. Other ideal dishes include roast pork in mustard sauce, poached lobster with beurre blanc, or a rich and savoury vegetable quiche.
And there we have it, a complete range of white wines tailored to suit that man in your life you are struggling to buy a gift. From vegetarian options to that fish lover you know or just enjoy a glass of wine on a nice spring evening. Whether it is the colour, grape, food pairing or price, I hope this blog has helped to make your decision. Good luck!