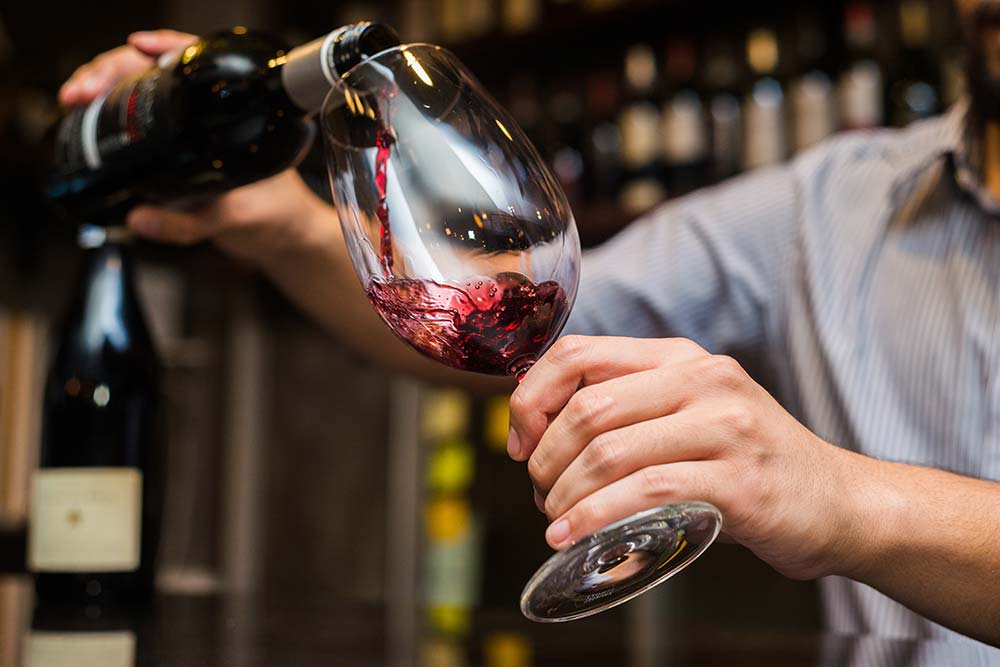 6 Reds That He Wont Completely Dread
5 Reds your man won't completely dread
Raise your hand if you've ever walked into an off licence to buy a red wine present for a male companion and your mind going completely and utterly blank. Regardless if you enjoy a glass of wine with your dinner or at the weekend, (or both) when it comes to choosing for someone else the impossible well and truly feels….impossible.
When you're standing there in front of rows and rows of bottles in red, crimson, scarlet, mahogany and ruby, the pressure starts building and the colour of your skin can feel like its almost blending in. It's daunting enough trying to choose a bottle for yourself at times, never mind for someone else.
Well, here's some good news: Choosing a red wine for him doesn't have to be that daunting. Following our steps to guide you through each wine, you can take your pick from a range of grapes, styles and even prices.
By carefully reading through each description, food pairing and recommendations this should …. Regardless if you are extremely close to the person or don't really know them well, this should lead you to an easy conclusion and you'll have the perfect gift for him! Ready? Let's get started.
Woolloomooloo Shiraz £7.75
Country: Australia
The first wine introduce is not as complicated as it looks. Woolloomooloo (Wu-Lu-Mu-Lu) has come from an Aboriginal spirit which once roamed the Australian Victorian Alps.
It is crafted across selected vineyards in South Eastern Australia. The vineyards landscape provides home to numerous sheep stations, which are still in operation today.
A dark ruby red in colour this Shiraz aromas of smoky, ripe berry fruits with a touch of mint. Smooth and rich to taste with a collection of spicy flavours which delivers a full concentrated finish.
A recommended dish to pair with this Shiraz is Spanish or Mexican food. If your man likes spicy fajitias or a chorizo chilli with a side of bruschetta or patatas bravas this could be the winner.
However, if this doesn't sound like something he would go for then take a look at our next option…
Chateau Macquin Saint Georges Saint Emilion £14.99
Country: France
This next wine, a lot of people would argue has many differences from the Woolloomooloo. However, there is one main obvious difference with the Chateau Macquin Saint Georges Saint Emilion and that is because it's French.
Now, I'm not saying that French wine is the best. But, when you think of wine what country immediately springs to mind? Chances are, it's France.
French wine is among the most popular around the world, not to mention some of the highest quality!
The Château Macquin winery dates back to 1885 by a man named Francois-Albert Macquin. To this day there are hectares owned in both Saint-Emilion and Pomerol which is currently run by Francois Albert's grandson.
The Saint George Saint Emilion displays almost opaque with an austere of red and black fruit, hints of violet and sage on the nose. The palate opens firm and disciplined, with spiced plum and dried blackberry fruit, layered and complex, finishing savoury and rich with persistent black fruit and underlying toasted oak.
I don't know about you, but the only thing I would want to pair with a dark, savoury wine would be a beef casserole or a rich roast duck or lamb with cheese to finish. If your man prefers beef over chicken or even a crème brule over ice cream then this specific wine would be perfect for him.
Domaine De la Creuze Noire Julienas Le Clos
Country: France
This wine fits with grilled meat, hard cheeses, veal, lamb, mushrooms and red meat.
Domaine de la Creuze Noire
One of the showpieces from our range. Beautiful and very affordable wines!
The modest and very sympathetic owner Dominique Martin has been producing wines from the age of twenty and represents the fifth generation of winemakers of his family. He works entirely without insecticides and pesticides. Beside fantastic white Burgundies Dominique also makes a precious Juliénas and Saint-Amour in the Beaujolais. His pure, pure style and modest pricing makes the wines very popular.
Domaine de la Solitude Chateauneuf de Pape Red £34.99
Country: France
Just because this is the most expensive wine don't let that scare you. Just like everything, there is always a reason.
Domaine de la Solitude owns 35 hectares of vines in Chateauneuf du Pape.
In 1985, Domaine de la Solitude made changes in their approach to wine making. They replaced their old foudres with concrete vats and stainless steel tanks. This combined with the short maceration time therefore leaves their style of Chateauneuf ready to drink and is much younger than the traditional tough wine.
This red is complemented by vanilla and spice, a big wine but retaining this estate's elegance and showing a modern style of winemaking. It can be served with all types of classic dishes.
If the man your looking wine for is an adventurous eater and likes to have a selection of dishes this could be the one for him. Pork, chicken, braided or stewed beef dishes have all been recommended to perfectly compliment this wine. Also, Asian dishes, hearty fish dishes and anything vegetarian like tomatoes and mushrooms. If you would say he is an all rounder, then this is definitely for him.
Bolla Amarone del Valpolicella £26.75
Country: Italy
In 2016 Italy's prime minister Matteo Renzi has caused a stir in French media after claiming that his countrys wines were better than those from France… This has not a fact, but this next wine could give France a run for its money.
'Amarone' on the label was first produced by the winery Bolla in 1953. In the hillside of "Fruttai" the grapes are handpicked and laid out to dry on the hillsides. This concentrates the flavours and brings a complexity to the wine- a traditional technique in winemaking which started in roman times.
Made in only exceptional years, Amarone is one of the legendary red wines of Italy.
A rich bouquet of black fruits, vanilla, roasted coffee beans, big, full bodied, rich concentration of flavour, spicy with hints of dark chocolate. With a velvety texture, a lot of warmth and a long round and persistent spice, leaves a long aftertaste.
Bolla Amarone pairs beautifully with game casseroles, Venison, duck, strong matured cheeses. If the man you know has a very complex diet and enjoys an array of different and usual meats this may be your red. If classy and sophisticated comes to mind when you think of the man your looking to buy for, this could be it.
Dante Robino Malbec Reserva £19.49
Country: Argentina
A stunning, rich and concentrated Malbec, big , bold, long and harmonious. Aged for 12 months in American oak barrels with ripe black fruit flavours, hints of vanilla and chocolate. It is velvety and complete, marked fruity notes, especially red fruit, attractive, delicate with oak aromas. Purple red characteristic of malbec, intense and bright. In the nose, it offers red fruit like blackberry and plum and subtle notes of vanilla and toast coming from the barrel. On the palate, it is a lingering wine with kind tannins. It is an elegant malbec, fruity and balanced for those who enjoy this kind of wines.
This Argentinean Malbec Reserva is beautifully paired with Roast Lamb,Roast beef, Steaks,Wild Mushrooms, Duck, Quails, Partridge and Venison. Ideal to match with stuffed pasta, lasagne, ripened cheese, rice with vegetables or mushrooms among others. If he is a male that loves an Italian meal with rich meat and cheeses this is the bottle. Recommended highly by everyone at The Wine Company this is a definite contender for a perfect gift.
Well there we have it, 6 very unique and different wines for gifts. Each tailored to fit an individual with an arrange of tastes and preferences. Red wine to suit meat lovers, Italian food lovers or just an all rounder. Whatever you do end up choosing, I know for certain these wines are all a fine and compelling choice. Therefore, regardless if it wouldn't be his first choice then, it certainly will be now.