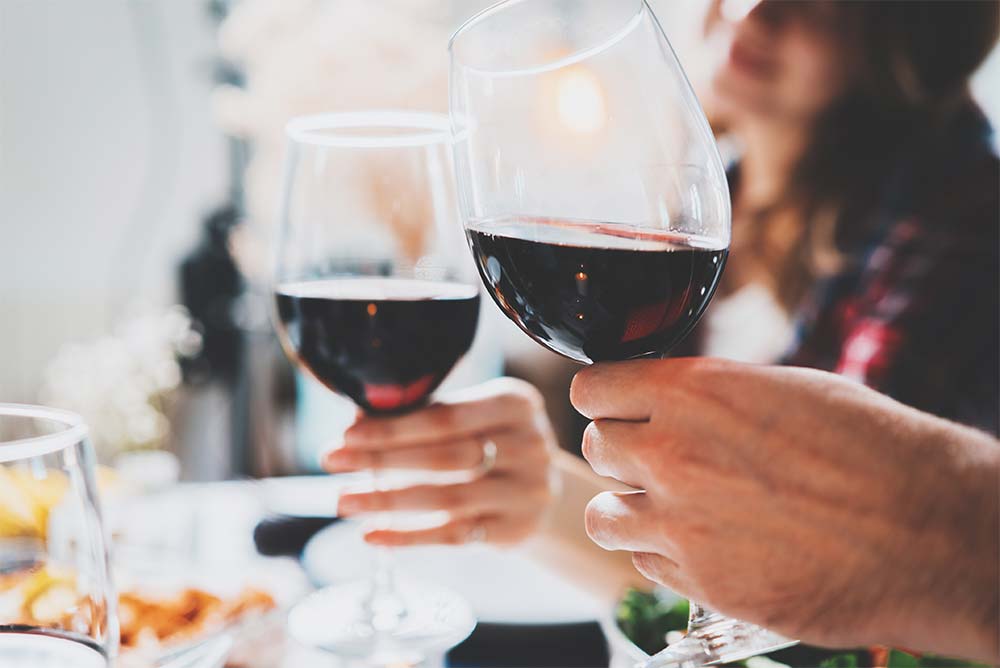 6 Red Wines That Would Make The Perfect Gift For The Woman In Your Life
Whether it's an anniversary, birthday, special occasion or she's just ringing to pick up a bottle on the way home from work, whatever you choose will more than likely be the wrong one. Women just have it in their nature to be picky or in a better way to put it; they just want whatever they don't have. However, even though we all know this, every time we still want to try our hardest to please them.This is where this blog will come in handy. I want you to leave this page feeling like you have gained a lot more knowledge on wine and accomplished something. I am going to talk you through a selection of different red wines to tailor different preferences and tastes. By the end, hopefully, you'll know exactly what type of red wine she will enjoy.
Wildwood Merlot £7.99
Country: California
Made with only the ripest grapes from Californian vineyards, Wildwood Merlot produces an intense ruby coloured wine. Aromas of blueberries and cherries can be detected on the nose. On the palate, deep redcurrant flavours combined with a hint of vanilla and toasty oak leading to a soft and velvety finish. This merlot is best served at room temperature. Any red meat is highly recommended, for example game and duck. A hearty beef stew or casserole also goes well with this red so if you're the one cooking the dinner sway towards those types of dishes. However if your eating out, a nice Italian with a range of different meats would be preferable. If the lady in your life prefers a deep intense red regardless of going out for dinner or staying in, then this could be the one for her. If not, keep reading.
Tenuta Rapitalà Syrah Sicilia £10.50
Country: Sicily
Through out the The Wine Company Tenuta Rapitala are very highly rated.
This Rapitala Syrah grows in the hillside of the estate, around 400/500m of altitude. It is vinified in small stainless steel container; no oak is used in order to preserve the essential aromas needed to make a proper Syrah.
It offers a ruby-red colour with violet tints, a soft and elegant bouquet, with fruity notes of blackberries and blackcurrants which blend well with the touches of the typical spices of this grape variety. It is balanced, clean and fresh on the palate. Italian food like pizza and pastas are among the most highly recommended foods for this red wine. Although, red meats and roasted whites are among those popular as well so you don't need to have a specific type to enjoy. If taking your lady out to a nice Italian restaurant and you really want to impress her I would definitely try this out. If she doesn't agree a lot of people at The Wine Company would like to know why…
Paul Mas La Forge Pinot Noir £11.49
Country: France
Jean-Claude Mas, independent winemaker, fourth generation grape grower, first generation winemaker and owner of Domaines Paul Mas, is a leader in fine winemaking in the Languedoc region of the South of France.
For years The Wine Company has a very close bond with Paul Mas so any wine by them is highly recommended by us (not bias) Paul Mas vines grow on clay and limestone soils with gravel, includes the destemming process and the wine is oaked in a barrel for six months.
A medium ruby colour with very elegant notes of red berries (strawberry, cherry, griottes) combined with soft spices aromas and a hint of vanilla. This medium to full-bodied wine is ripe with tannins and has a well balanced acidity to give it a complex and elegant Pinot.
This red pairs very well with red meat, white meat and lamb, veal or pork, game. It can also be perfect for an after dinner drink with soft/medium cheeses. A very complex and elegant Pinot to match a complex and elegant lady.
Castillo Perelada 5 Fincas £16.55
Country: Spain
Castillo Perelada 5 Fincas has been aged for 18 months in oak casks. Made from Merlot, Cabernet Sauvignon and Garnacha.
Rich and opulent with a red cherry colour. This red is powerful on the palate, mellow, with hints of bitter chocolate on the finish.
The enveloping aroma contains ripe fruit, with balsamic notes and a toasted background. In the mouth it is wide, well-structured and balanced. It has a very fresh acidity. This is a wine with a great personality, nice in the mouth, with a long after-taste.
The Spanish Perelada 5 Fincas compliments Roast Beef, Roast Lamb, Steaks, Venison, Spicy spare ribs and Matured cheeses. If your lady is an adventurous meat eater and prefers red meat over white this may be the right option for her.
Domaine de la Solitude Côtes du Rhône £12.99
Country: France
Domaine de la Solitude owns 35 hectares of vines in Chateauneuf du Pape.
In 1985, Domaine de la Solitude made changes in their approach to wine making. They replaced their old foudres with concrete vats and stainless steel tanks. This combined with the short maceration time therefore leaves their style of Chateauneuf ready to drink and is much younger than the traditional tough wine.
This red is bright and lively on the palate, it has an intense nose of tart red berries and exotic white fruits with citrus highlights. Enticing perfume of ripe plums and a soft and approachable palate. A good weight of plummy fruit, well structured with a complex finish. Red meat is highly recommended to pair with this wine including beef, a lamb or game.
Square Ranch Malbec £8.99
Country: Argentina
Now if your this far and think none of those previous red seem to suit. Don't worry, this could be your answer.
Square Ranch Malbec comes from some of the highest altitude vineyards in the world. In the heart of Argentina's Mendoza wine region this intense, juicy red Malbec is produced. It has a fresh and fruity nose and contains hints of plums, blackberries and a touch of vanilla. As Argentina is also know as 'cattle country' as you would imagine this malbec pairs perfectly with barbecued and grilled meats accompanied with pasta, spicy dishes and cheese.
If the woman in your life enjoys to relax at the end of the day or at the weekend this is a very complex but easy drinking wine. With its modern packaging and no harsh edges this leads to very easy drinking.
As we come to end of the blog, I hope that all your questions have been answered. From French to Argentinian reds, meat lovers to fish lovers there is a wine choice to suit all women's needs. All that's left is for you to figure out what type of woman your looking to buy a gift for….good luck…